---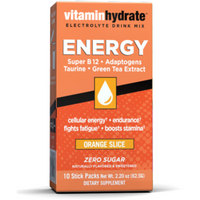 BOOST ENERGY LEVELS WITH ADVANCED HYDRATION!
Vitamin Hydrate Energy Stick Packs provide the energizing nutrients your body needs for enhanced recovery and improved performance in fitness and everyday life. With a refreshing Blue Raspberry flavor, this advanced formula is fortified with 10 vitamins, minerals and critical electrolytes to provide fluid balance and hydration.
Science tells us that hydration plays a key role in promoting cellular energy, physical activity, recovery and optimised recuperation, which is why Vitamin Hydrate Energy Stick Packs provide nutritional tools to keep your body active, energised and ready to go.
Each serving of provides key electrolyte minerals, 150 mg natural caffeine from green tea extract, 20,833% DV of energising vitamin B12 and adaptogenic herbs to help you bounce back when you feel drained and energise your system again. Simply mix a convenient stick pack with 12-16 oz. of water to make a delicious sugar free, Orange Slice flavoured drink that is more hydrating than drinking water alone!
Vitamin Hydrate Energy Stick Packs are also perfect to use for hangover relief, air travel and stress support . . . or any time you need to hydrate quickly and amp up your energy to feel better and revitalise your body. Using these advanced formula stick packs daily will also help support Krebs Cycle energy synthesis for enhanced alertness at work and whenever you need it, better athletic performance and recovery, increased stamina and reduced fatigue. They also support digestive health naturally.
Vitamin Hydrate Energy Stick Packs are Keto and Paleo friendly, non-GMO, gluten free and vegan. To get the benefits of maximum hydration, energy and recovery, simply tear, pour and drink this ultimate Orange Slice flavored electrolyte drink mix.
BOOSTS ENERGY & FIGHTS FATIGUE.

 

Thanks to 150 mg of natural caffeine per serving from green tea extract, guarana and yerba mate, Vitamin Hydrate Energy Stick Packs give you a quick upcharge in energy to speed recovery and keep you energized. The formula also provides vitamin B12 and powerful adaptogens to fight fatigue and keep you moving. With a stimulating Orange Slice flavor, picking up the pace has never been more enjoyable
PROMOTES CELLULAR ENERGY.

 

Hydrating your body involves more than just drinking water. In order to push fluid into the cells, the fluid must have an electrical/magnetic charge. Electrolytes add this charge to plain water, allowing it to enter cellular walls more easily and thereby energize the cells. Vitamin Hydrate Energy Stick Packs provide key electrolyte minerals, coconut water and adaptogens to help support healthy cellular hydration.
MORE HYDRATING THAN WATER ALONE.

 

If you are thirsty, your body is already becoming dehydrated! Fortunately, Vitamin Hydrate Energy Stick Packs are flush with the critical electrolytes that help your body stay fully hydrated and water balanced. Drinking a refreshing Orange Slice flavored drink is more hydrating than drinking water alone!
Ingredients
Energy Support [Taurine, Panax ginseng root extract, Siberian ginseng root extract]; Natural Caffeine (150 mg) from Green tea extract (Camellia sinensis), guarana fruit extract (Paullinia cupana), Yerba mate leaf extract; Cellular Hydration Drip [Potassium citrate, magnesium citrate, calcium carbonate, sea salt, zinc citrate, coconut water, watermelon extract]; Other Ingredients: Citric acid, natural flavors, organic steviol glycosides, natural colors (beta carotene, beet root) and monk fruit extract. Contains: Coconut.