---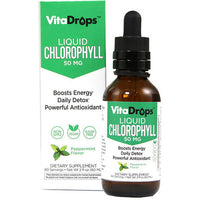 VitaDrops™ Liquid Chlorophyll Drops is a pure and natural form of highly effective chlorophyll supplementation.
Widely known as the compound that provides green leaves and plants their colour, Chlorophyll supplementation enjoys popularity for detoxification, cleansing, and immune health.  These positive effects are due to its rich antioxidant content, alkalising effect, and ability to promote healthy cell function.
Ingredients: 
Chlorophyll (sodium copper chlorophyllin) 50 mg; Other ingredients: Purified water, vegetable glycerin and peppermint oil.