---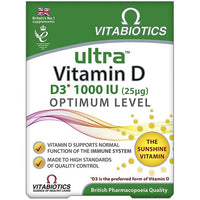 Vitabiotics Ultra Vitamin D provides optimum strength vitamin D which plays a truly remarkable role in the body and is important for many areas of health. It not only contributes to the maintenance of normal bones and teeth but is also known for its role in supporting the normal function of the immune system, normal cell division and normal muscle function. 
Indications
Generally, Ultra™ Vitamin D can be taken alongside medications. For specific advice on taking Ultra™ Vitamin D with medicines, we recommend that you contact your doctor or pharmacist first.
Ingredients
Bulking Agents: Microcrystalline Cellulose & Pregelatinised Starch, Vitamin D3 (Cholecalciferol), Polyvinylpolypyrrolidone, Tablet Coating (Hydroxypropylmethylcellulose, Glycerin, Natural Source Colour [Titanium Dioxide]), Anti-Caking Agents: Purified Talc, Magnesium Stearate & Silicon Dioxide, Hydroxypropylcellulose, Polyvinylpyrrolidone.
Directions
One tablet per day with your main meal. Swallow with water or a cold drink. Not to be chewed. Do not exceed the recommended intake unless advised so by your physician. Ultra™ Vitamin D may be used for as long as required. A regular intake is recommended.