---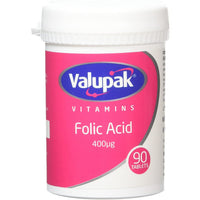 Valupak Folic Acid - 400mcg Designed for women of child-bearing age, this product provides 400mcg Folic Acid daily. Supplemental Folic Acid intake increases maternal folate status. Low maternal folate status is a risk factor in the development of neural tube defects in the developing baby*. Folic Acid also plays a role in cell division and also contributes to normal psychological function and normal blood formation.
*This beneficial effect is obtained with a supplemental intake of 400mcg daily for at least one month before and up to three months after conception. 
Ingredients 

Dextrose (Bulking Agent), Microcrystalline Cellulose (Bulking Agent), Magnesium Stearate (Anti-Caking Agent), Folic Acid.
Vegetarian Society Approved
Each tablet provides: Folic Acid 400mcg  
Free from sugar, gluten, yeast , artificial flavours, colours and preservatives.