---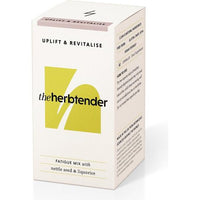 Fatigue-fighting adaptogen blend to gently restore energy reserves and maintain stamina. Specifically blended to sustainably support you when you're bouncing back.
Bouncing back from fatigue isn't achieved overnight. Whether you've experienced chronic fatigue or been laid low, a sustainable recovery shouldn't be rushed. Uplift & Revitalise is here to support the body gently without over-stimulating your system.
Used by herbalists for tiredness and burnout, nettle seed is one of the few native British adaptogens. It supports both kidney function and the body's vitality. Liquorice helps maintain energy levels, supports the immune system and has antioxidant properties. The formula is completed with some Rhodiola and Reishi, adaptogens to help your body adjust as it finds balance.
Ingredients 
Stinging Nettle seed, Reishi dual extract*, Rhodiola root, Liquorice root, Acerola Cherry (Acerola Cherry, maltodextrin), Vegetable Cellulose (capsule)