---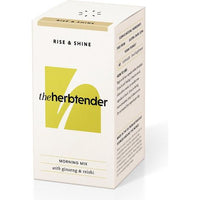 Powerful adaptogenic blend to nourish your vital force. An energising morning routine that invests in your future self.  Specifically blended to support energy levels, focus and immunity. 
Our physical and mental energies are intertwined and cyclical – we know a burst of exercise will boost our mood, but we need a positive mindset in the first place to spur us into action. Low energy levels can reinforce that negative cycle, so Rise & Shine is designed to target both body and mind with a balanced blend of Panax Ginseng and Reishi mushroom.
Ginseng has a long history of use in Asian medicine as one of the great tonic herbs. This herb can restore depleted qi or energy; it was believed to calm and strengthen the mind, pacify the soul and prolong life. Reishi was known as the 'mushroom of immortality' because of its use to support the heart, improve cognition and promote vitality.
Ingredients 
Reishi dual extract*, Red Ginseng root, White Ginseng root, Seagreens* (Ascophyllum nodosum), Vegetable Cellulose (capsule)