---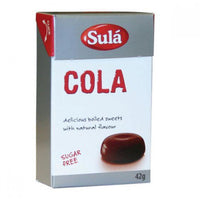 Sugar Free
Natural ingredients
Great on-the-go snack
Sula Cola Sugar Free Sweets have a great taste but they also use new natural ingredients that are free from artificial flavours, artificial colours, hydrogenated fats, aspartame, acesulfame and preservatives.
Sula Boiled Sweets come in a range of flavours to appeal to all tastes, including classic favourites like Caramel Cream, and Strawberry Cream to popular new flavours including Fruit Mix and Cappuccino Cream. Sweets are available in a handy flip-top box for eating on-the-go.
Ingredients:
Always read the label
Sweetener (Isomalt, Acesulfame K, Sucralose) Acidity Regulator (Lactic Acid, Sodium Lactate), Natural Flavouring, Malt Extract, Caramel.

Advisory information:
May contain traces of wheat