---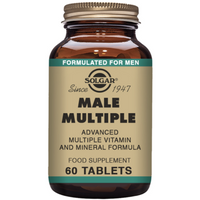 Male Multiple is one of Solgar's premium-quality men's health products. This advanced multinutrient complex is a carefully crafted formulation tailored to the nutritional needs of men. Just three tablets a day provide an advanced multivitamin formula with 26 nutrients specifically formulated to provide nutritional support for men's busy lifestyles. Including phytochemicals, vitamins B6, B12, niacin and pantothenic acid, which contribute to normal energy-yielding metabolism and the reduction of tiredness and fatigue.
Solgar's Male Multiple Tablets are free of yeast, wheat and dairy, and are formulated without the use of artificial preservatives or flavours, as well as being suitable for vegans. Male Multiple Tablets are available in 60 and 120 tablets pack and support:
Heart health including thiamine which contributes to the normal function of the heart and choline, which contributes to normal homocysteine metabolism
Energy support with biotin, magnesium and vitamin B1 which contributes to normal energy-yielding metabolism and folate, niacin and vitamins B12, B6 and C which contribute to the reduction of tiredness and fatigue
Brain function as iodine and zinc contribute to normal cognitive function
Collagen for healthy joints with vitamin C which contributes to normal collagen formation
Healthy bones and teeth with calcium, magnesium, manganese, vitamin C and zinc, which are needed for the maintenance of normal bones
Immunity with copper, folic acid, selenium, vitamin B12, B6, C, D and zinc, which contributes to the normal function of the immune system
Digestion with Calcium, which contributes to the normal function of digestive enzymes
Mental focus with biotin, folic acid, magnesium, niacin, vitamin B12, vitamin B6 and Vitamin C, contributing to normal psychological function
Features antioxidants to help fight free radicals; copper, manganese, selenium and vitamin C, contributing to the protection of cells from oxidative stress
Ingredients
"Calcium (as carbonate, bisglycinate , citrate), Bulking Agents: microcrystalline
cellulose, dicalcium phosphate, mannitol, maltodextrin, Magnesium (as oxide, citrate, bisglycinate), Vitamin C (as L-Ascorbic acid), Choline (as bitartrate), Glazing Agents: hydroxypropylmethyl cellulose, vegetable glycerin (from palm kernel oil and coconut oil), Anti-caking Agents: vegetable stearic acid, silicon dioxide, vegetable magnesium stearate, Cross-Linked Cellulose Gum, Inositol, Pantothenic Acid (as D-pantothenate, calcium), Vitamin E (135 IU, as D-alpha tocopheryl acid succinate), Riboflavin (vitamin B2, as riboflavin, riboflavin phosphate), Thiamin (vitamin B1, as thiamin mononitrate), Niacin (vitamin B3, as niacinamide), Colours: sodium copper chlorophyllin, titanium dioxide, Vitamin B6 (as pyridoxine HCl), Zinc (as bisglycinate), Citrus Bioflavonoids, Complex Natural Source, Beta-carotene Manganese (as bisglycinate ), Chromium (as picolinate), Copper (as bisglycinate ), Vitamin B12 (as cyanocobalamin), Selenium (as L-selenomethionine), Carotenoid Mix, Folic Acid (as pteroylmonoglutamic acid), D-biotin, Iodine (as potassium iodide), Vitamin D2 (400 IU, as ergocalciferol)"