---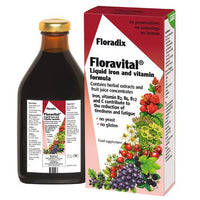 Floradix Floravital Yeast Free Liquid Iron & Vitamin Formula contains organic iron (II) from ferrous gluconate, vitamins B2, B6, B12 and C which may contribute to normal energy-yielding metabolism. In addition, iron contributes to healthy red blood cells (supported by vitamins B6 and B12) and haemoglobin formation. Furthermore, vitamin C increases iron absorption.
Ingredients
Aqueous herbal extract (70%) from:
Roselle flower (Hibiscus sabdariffa), camomile flower(Matricaria recutita), fennel fruit (Foeniculum vulgare), spinach leaf, (Spinacia oleracea).
Mixture of fruit juice concentrates (27%) of:
Grape, pear, water, blackcurrant juice, cherry, blackberry, carrot.
Iron (as ferrous gluconate), aqueous rosehip soft extract (Rosa canina) containing 4 % vitamin C, vitamin C (ascorbic acid), vitamin B6 (as pyridoxine hydrochloride), riboflavin (as riboflavin sodium phosphate), thiamin (as thiamine hydrochloride), vitamin B12 (cyanocobalamin).
Usage
Adults and children over 12 years: Take 10ml twice daily.
Children 6 - 12 years: Take 10ml once daily.
Children 3 - 5 years: Take 5ml once daily.
Once opened this product will need refrigerating
Contraindications
The indicated recommended daily dosage should not be exceeded. Food supplements should not be taken as an alternative to a balanced diet. Favour a healthy lifestyle.