---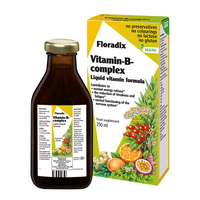 Contains vitamins of the B-complex which are involved in a multitude of important metabolic processes in the body and contribute significantly to general health and wellbeing. The daily dose of 20ml provides the body with sufficient amounts of vitamins B1, B2, niacin, B6, biotin and B12.
 Ingredients
Aqueous herbal extract (45%) from: yarrow herb (Achillea millefolium), water cress herb (Nasturium officinale), spinach leaf (Spinacia oleracea), olive leaf (Olea europaea), galangal rhizome (Alpinia galanga), ginger rhizome (Zingiber officinale), rosehip peel (Rosa canina).
Mixture of fruit juice concentrates (36%) of: pear, apricot, orange, carob extract, passion fruit, lemon, grape, apple.
Water, thickener: locust bean gum, nicotinamide (niacin), riboflavin (as riboflavin 5′- phosphate, sodium), vitamin B6 (as pyridoxine hydrochloride), thiamin (as thiamin hydrochloride), biotin, vitamin B12 (methylcobalamine), natural flavours.
 Directions
 Adults and children over 12 years: 20ml once daily
Children aged 7 – 12 years: 10ml once daily
Children aged 3 – 6 years: 5ml once daily
Allergen Information
 Contains no alcohol, preservatives, colourings or artificial flavourings. It is free from lactose, yeast and gluten and is suitable for vegetarians and vegans. Not suitable during pregnancy and breastfeeding.