---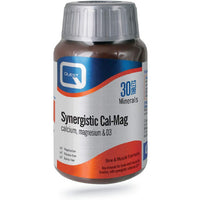 Provides a balanced ratio of calcium, magnesium and vitamin D which are needed for and contribute to the maintenance of normal bone, teeth and muscle function. Supplementing with calcium and vitamin D may help reduce the risk or bone fractures and the risk or progression of osteoporosis. Women of menopausal age are recommended to take a calcium and vitamin D supplement for bone health. Magnesium helps the body utilise calcium efficiently and is a key nutrient for muscle health. Calcium and magnesium are also important to support the functioning of the nervous system. Children going through puberty have an increased requirement for calcium and magnesium to support growth spurts at this time.
Ingredients
Calcium-Magnesium Amino Acid Blend (magnesium oxide, aspartic acid, calcium carbonate, magnesium oxide), Magnesium Amino Acid Blend (citric acid, magnesium oxide, aspartic acid, rice protein, rice protein concentrate), Bulking Agent (microcrystalline cellulose), Calcium Amino Acid Blend (calcium carbonate, citric acid, calcium hydroxide, rice protein, glycine), Glazing Agent (hydroxypropylmethylcellulose, methacrylic acid, cellulose, titanium dioxide), Croscarmellose Sodium, Anticaking Agent (magnesium stearate, precipitated silicon dioxide), Vitamin D (with sucrose, modified starch, sodium ascorbate, medium chain triglycerides, silicon dioxide, dl-alpha tocopherol).
Directions
Take one to three tablets daily with food.
Safety Warning
Food supplements should not be used as a replacement for a varied and balanced diet and healthy lifestyle. Do not exceed the stated intake unless instructed by a qualified health professional. Keep out of reach of children. Store in a cool, dry place.