---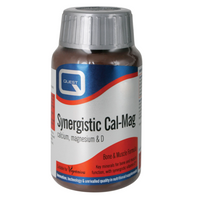 Quest Synergistic Cal-Mag provides a balanced ratio of calcium, magnesium and vitamin D which are needed for and contribute to the maintenance of normal bone, teeth and muscle function. Calcium and magnesium are also important to support the functioning of the nervous system. This formulation provides equal amounts of both calcium and magnesium, together with vitamin D which works synergistically alongside these two minerals in the body. The calcium and magnesium in this product are chelated with amino acids for optimum absorption and utilisation.
Directions:
Take one to three tablets daily with food.
Ingredients:
Mineral amino acid blend (providing calcium carbonate and magnesium oxide complexed with aspartic acid, hydrolysed rice protein), Bulking Agent: Microcrystalline Cellulose, Magnesium Stearate, Vitamin D3 (with Arabic gum, tri-calcium phosphate, D-?-tocopherol (from soya)), Glazing Agent: Hydroxypropylmethylcellulose, Colour: Titanium Dioxide, Glycerol.
Warnings:
Allergen Info: This product contains soya