---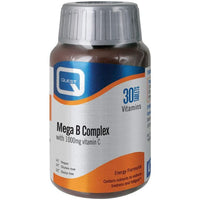 A high potency timed released formula providing a full spectrum of the B vitamins plus vitamin C. Designed to support a hectic lifestyle, its helps support energy and concentration levels and reduce tiredness and fatigue and the effects of stress on the body. Vitamins B1, B2, niacin (B3), B6, pantothenic acid and vitamin C contribute to the reduction of tiredness and fatigue. Vitamins B1, niacin (B3), B6, B12, biotin and vitamin C contribute to normal functioning of the nervous system. Vitamin C is an antioxidant nutrient that contributes to the protection of cells from oxidative stress and to the normal functioning of the immune system.
Safety Information

If you are under medical supervision, please consult a doctor before use. This product should not be used as a substitute for a varied and balanced diet and healthy lifestyle. Do not exceed the stated recommended daily intake. Keep out of reach of children. Store in a cool, dry place away from direct sulight and heat. 

Ingredients

Vitamin C (with hydroxypropylmethylcellulose), Bulking agent: Microcrystalline Cellulose, Pantothenic Acid, Vitamin B6 (methyl cellulose), Riboflavin, Niacin (as niacinamide), Thiamin (methyl cellulose), Choline Bitartrate, Inositol, Para-Aminobenzoic Acid (methyl cellulose), Magnesium Stearate, Vitamin B12 (with di-calcium phosphate), Biotin (di-calcium phosphate), Anti-caking agent: Silicon dioxide, Peppermint Oil, Folic Acid (di-calcium phosphate), Glazing Agent: Hydroxypropylmethylcellulose. 

Directions
Take one tablet daily with a meal