---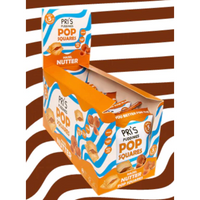 Indulge in a selection of scrumptious pastry bites filled with a smooth hazelnut butter filling
These pastry bites are made of 5 INGREDIENTS and are vegan, gluten free, and contain less than 50% of the sugar vs the original Pop Tart.
At Pri's Puddings, we are on a mission to indulge the healthy way, creating a scrumptious snacking experience that is better for you, better for the animals and better for the environment.
We combine the simplest wholefood ingredients to create a decadent healthier dessert; our indulgent and quirky "Pop Squares" are perfect for snacking on-the-go.
We want to be totally transparent about what you're eating so that  you can indulge without guilt!
WHATS INSIDE:
Pop Squares – Hazelnut Butter x 12 Packs
4 Squares per pack
44g
100% recyclable packaging
Ingredients: 
Gluten Free Oats, Rapeseed Oil, Coconut Sugar, Cacao Butter, Hazelnuts