---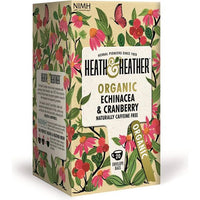 Echinacea provides a delicate herbal infusion with subtle spiced undertones, here combined with cranberries for a crisp and fruity caffeine-free infusion.
Ingredients
Organic Apple Pomace, Organic Hibiscus, Organic Apple, Organic Echinacea Herb (6%), Citric Acid, Organic Orange Peel, Organic Rosehip, Organic Cranberry (1%).
Add one Heath & Heather teabag to 200ml of freshly boiled water, then simply infuse for 3-5 minutes before consuming.