---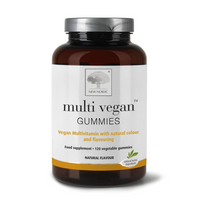 Multi Vegan Gummies are suitable for vegans, vegetarians and everyone else looking for a clean product. This multivitamin for the entire family is an easy way to get your daily vitamin supplement. Enjoy the health-related advantages and try the new delicious gummies.

Vitamins are nutrients your body needs in order to function. The body needs vitamins to maintain muscles, bones, skin and mucous membranes. With a supplement of Multi Vegan Gummies you can make sure you're getting all the vitamins and nutrition you need on a busy day, and in a form that is easy for your body to absorb.
RECOMMENDED DAILY DOSE
Take 4 gummies daily. Food supplements are intended to supplement the diet and should not substitute a varied diet of healthy lifestyle. Do not exceed the stated dose. Caution: Seek professional advice before
using if you are pregnant, breastfeeding or suffer from allergies.
INGREDIENTS
Glucose syrup, sugar, gelling agent (pectin), acidity regulator (citric acid), fruit juice concentrates (orange, apple, raspberry, strawberry and blackcurrant), carrot juice concentrate, natural aroma, coconut oil, ascorbic acid, surface treatment agent (carnauba wax), nicotinamide, DL -alpha tocopherol acetate, pyridoxine hydrochloride, retinyl acetate, folic acid, D-biotin, ergocalciferol, cyanocobalamin.
Warnings
Not suitable for children under 12 years of age. Keep out of reach of children.