---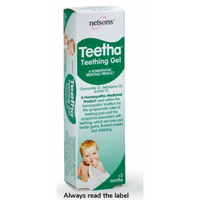 A homeopathic medicinal product used within the homeopathic tradition for the symptomatic relief of teething pain and the symptoms associated with teething, which are sore and tender gums, flushed cheeks and dribbling.
Active Ingredients
Each 1g of oral gel contains:Chamomilla 12c, Belladonna 12c, Aconite 12c
Also contains
Water, Ethanol, Xylitol (E967), Hypromellose, Glycerol, Xanthan gum.
Precautions 
Please read the enclosed leaflet before use. 
• Do not give this medicine to the baby if he/she is allergic to any of the ingredients. 
• Do not give to babies under 3 months old.
• Contains ethanol, please see leaflet for more information.
• Keep all medicines out of sight and reach of children.
• Do not use after expiry date on carton and tube.
• Once opened use within 28 days. Date of first opening.
• Do not store above 25ºC.
Directions.
For babies aged 3 months and over.
Check tube seal is not broken before first use. If it is do not use the gel.
• Pierce seal with point in top of cap.
• With a clean finger apply a pea sized amount of the gel to the sore area on the baby's gums and teeth.
• Use every 4 hours for up to 6 times a day.
• Do not exceed the stated dose.
• If the symptoms become worse or do not show improvement after 7 days, or if the baby experiences any adverse or unwanted effets, consult your doctor or qualified healthcare practitioner.