---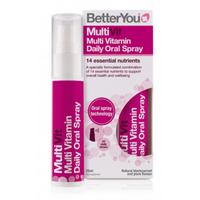 The robust multi-nutrient formulation contains the full spectrum of B vitamins, including folic acid, combined with A, C, D, K1 and other key minerals to help energy release (B12), support a normal functioning immune system (D3) and help with the reduction of tiredness and fatigue.
The MultiVitamin oral spray is designed to give our bodies a unique formulation of vitamins many of us miss out on due to busy lifestyles, poor diets and the reduced nutrient quality in highly processed foods.
Formulated to provide optimal nutritional delivery, each spray provides active ingredients in micro-sized droplets that coat and permeate the soft-tissue of the inner cheek, delivery the essential nutrients into the rich vein system below.
Ingredients:
Water, diluent (xylitol), emulsifier (acacia gum, sunflower lecithin), calcium ascorbate (C), niacinamide (B3), calcium D-pantothenate (B5), acidity regulators (citric acid, sodium hydroxide), medium chain triglyceride oil, pyridoxine HCI (B6), riboflavin 5 phosphate sodium (B2), preservative (potassium sorbate), thiamine mononitrate (B1), folic acid (B9), vitamin A palmitate (A), flavouring (natural blackcurrant and plum), thickener (xanthan gum),potassium iodine, sodium selenate, phytomenadione (K1), D-biotin (B7), cholecalciferol (D3), dibencozide (B12), methylcobalamin (B12).
Sugar free
Gluten Free
No artificial colours
No artifical flavours
No additives
No fillers
No GMO