---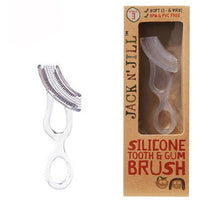 100% silicone tooth and gum brush, great for cleaning those back teeth! This might look rather odd compared to a traditional toothbrush, but children especially find it really easy to use. Its curve allows the brush to hug their teeth and gums, getting them super clean. The double-sided design to the brush cleans teeth top and bottom, front and back at the same time - how nifty is that?! It's also plastic free, which is great for reducing landfill.
We still advise adults to do most of the cleaning, as children do have a tendancy to chew their toothbrushes, and this should be avoided. But don't worry if any bristles do get chewed off, as the Jack N' Jill tooth and gum brush is made from non-toxic, medical grade silicone, so it will easily 'pass through'. 
100% medical/food grade silicone (hypoallergenic and hygienic)
BPA free
PVC free
Suitable for use with Jack N' Jill natural toothpaste. 
Ideal for use with children with back teeth and before adult teeth come through.
Care instructions
Wash with warm, soapy water
Suitable for sterilising in boiling water
Replace every 8 weeks or at first sign of damage
Remove any loose bristles before use
Not a teething toy, or to be chewed
Only to be used under adult supervison
Promote good oral hygiene from an early age with Jack N' Jill. The fluoride-free, natural toothpastes are available in a range of fruity flavours, or plain if you prefer, and all containing mild, hypoallergenic ingredients. Organic calendula is astringent, anti-inflammatory and anti-microbial, creating a healthy mouth, teeth and gums. 100% safe for children with no need to spit or rinse.  The Aussie-made toothbrushes are all BPA and PVC free, and very cute, too!