---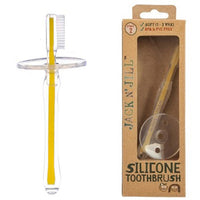 Made from one piece of medical-grade silicone, this Jack N' Jill baby toothbrush is a great way to continue to encourage daily teeth cleaning from a young age. Ideally sized and designed for tiny teeth and mouths, this toothbrush is suitable for babies and toddlers who don't yet have their back teeth/molars. A great plastic alternative to toothbrushes, BPA and PVC free for eco-conscious parents.
Please ensure the included safety shield is attached before use: pass the toothbrush through the central hole of the shield (it will need a bit of a stretch), then the shield rests just below the bristles. 
Also please note, this is designed for use a toothbrush, not a teether. We know it's tricky for babies and toddlers not to chew, so please ensure only an adult uses this on a baby/toddler, and try to encourage them not to chew! But don't worry if any bristles are chewed off: they're made of inert, non-toxic medical grade silicone, and will pass through their digestive system with no problems.
100% medical/food grade silicone (hypoallergenic and hygienic)
BPA free
PVC free
Suitable for use with Jack N' Jill natural toothpaste. 
Care instructions
Wash with warm, soapy water
Suitable for sterilising in boiling water
Replace every 8 weeks or at first sign of damage
Remove any loose bristles before use
Not a teething toy, or to be chewed
Only to be used by an adult on baby/toddler
Promote good oral hygiene from an early age with Jack N' Jill. The fluoride-free, natural toothpastes are available in a range of fruity flavours, or plain if you prefer, and all containing mild, hypoallergenic ingredients. Organic calendula is astringent, anti-inflammatory and anti-microbial, creating a healthy mouth, teeth and gums. 100% safe for children with no need to spit or rinse.  The Aussie-made toothbrushes are all BPA and PVC free, and very cute, too!