---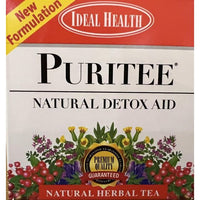 Natural Herbal Aid
Purify the system
Mint Flavour Herbal Tea - Caffeine Free
Combination of purifying Herbs & Flowers. Increase intake of fresh fruits & vegetables in every meal for a healthy lifestyle.
There's nothing more soothing than a delicious cup of herbal tea as part of varied and balanced diet and a healthy lifestyle - all our herbal teas are specially created to support your health at every stage of your life. The Ideal Health range of herbal & botanical teas has been developed over many years of experience and is created to highest standards from premium quality ingredients that have a delicate taste and fragrance of nature itself.
Not intended for use by persons under the age of 18.
Ingredients 
Senna leaf, Peppermint leaf, Birch leaf, Stinging Nettle.
Always read the label before use