---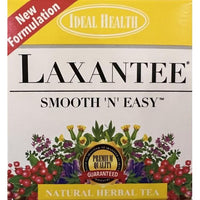 Laxantee - Smooth 'N' Easy
Ideal Health Laxantee has a lovely sweet & fragrant flavour.
Relax & Unwind
Increase intake of fresh fruits & vegetables in every meal for a healthy lifestyle.
Fennel, Camomile, Peppermint, all combine to create this sweet & fragrant tea.
The Ideal Health range of herbal & botanical teas has been developed over many years of experience and is created to highest standards from premium quality ingredients that have a delicate taste and fragrance of nature itself.
Ingredients 
Fennel fruit, Camomile flowers, Peppermint, Aniseed, Centuary, Caraway, Dandelion, Rhubarb
Always read the label before use