---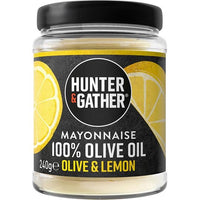 UK's first & only 100% Olive Oil Mayonnaise!
Sugar Free: The perfect swap, a sugar free mayonnaise made with only real food ingredients! 

No Seed or Veg Oils: Made with only Olive Oil (250+ olives per jar!). No blends of oils or cheap, unhealthy, inflammatory oils. 

Keto, Paleo, Low Carb, Sugar Free, Gluten Free, FODMAP & Vegetarian.

Ingredients 
Olive Oil, British Free Range Egg Yolk, Apple Cider Vinegar, Lemon (Juice, Zest and Oil), Pink Himalayan Salt, Black Pepper