---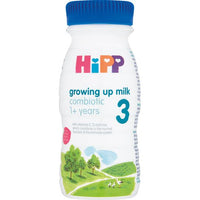 Are you planning to take your little one out and about? Our stage 3 ready to feed formula is perfect for adventurers who need nutritionally tailored growing up formula milk for on-the-go.
Developed for babies from 12 months onwards, our ready to feed growing up milk is designed to complement your toddler's diet. Based on more than 60 years of breastmilk research, it contains nutrients such as Calcium and vitamin D, which contribute to the maintenance of normal bones.
Did you know that your toddler needs seven times more vitamin D* than you do? That's why this and other important nutrients are in our stage 3 formula – to help support your toddler's diet.
Our ready to feed formula milk bottles are fully recyclable. Please remove the label before recycling.
*EFSA 2013, per kg of body weight (men 80kg, toddlers 12kg). 
Ingredients 
Whey product*, skimmed milk*, water, cream*, lactose*, vegetable oils* (sunflower oil*, rapeseed oil*), fish oil, emulsifier lecithins*, calcium salts of citric acid, calcium salts of orthophosphoric acid, potassium chloride, sodium citrate, vitamin C, magnesium sulphate, potassium hydroxide, sodium selenite, zinc sulphate, potassium citrate, L-tryptophan, ferrous sulphate, potassium salts of orthophosphoric acid, vitamin E, niacin, pantothenic acid, cupric sulphate, vitamin A, vitamin B1, vitamin B6, potassium iodate, folic acid, D-biotin, vitamin D, vitamin K , vitamin B12.
* from organic production
Allergens: see ingredients in bold