---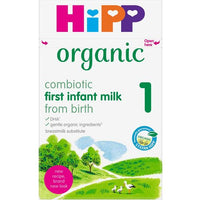 Based on more than 60 years of breastmilk research, HiPP Organic's first infant milk powder is a nutritionally complete breastmilk substitute suitable from birth onwards and contains Omega 3 (DHA).*
Whether you're combination or bottle feeding, our whey-based formula is suitable as your baby's complete source of nutrition.
*As required by the legislation for all infant formulas. 
Ingredients 
Organic skimmed milk, organic whey product, organic vegetable oils (organic palm oil❤, organic rapeseed oil, organic sunflower oil), organic lactose, organic galacto-oligosaccharides from organic lactose, fish oil1, potassium chloride, Mortierella alpina-oil, choline, sodium citrate, L-phenylalanine, calcium salts of orthophosphoric acid, L-tryptophan, magnesium carbonate, calcium carbonate, L-histidine, zinc sulphate, ferrous sulphate, vitamin C, vitamin E, niacin, pantothenic acid, cupric sulphate, vitamin A, vitamin B1, potassium iodate, vitamin B6, folic acid, sodium selenite, vitamin K, manganese sulphate, vitamin D, D-biotin, vitamin B12
❤from sustainable organic production, certified by independent authorities
1contains DHA sourced sustainably
Allergy advice - See ingredients shown in bold.