---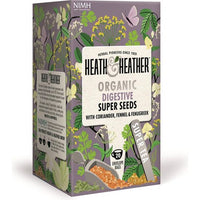 his savoury-sweet functional blend combines Coriander seeds, Anise seeds, Fennel seeds and Fenugreek seeds, all of which are popular as traditional herbal aids to ease digestion, making this the perfect after dinner blend.
Ingredients
Organic Anise (40%), Organic Fennel (30%), Organic Coriander (20%), Organic Fenugreek (10%).
Add one Heath & Heather teabag to 200ml of freshly boiled water, then simply infuse for 3-5 minutes before consuming.