---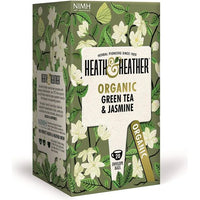 Jasmine, known for its beautiful white flowers, is a member of the olive family. The delicate jasmine blossoms are here expertly blended with organic green tea leaves for a wonderfully floral fragrant infusion.
Ingredients
Organic Jasmine Scented Green Tea (100%).
Allow freshly boiled water to cool for a few minutes before adding your Heath & Heather teabag, then simply infuse for 2-3 minutes before consuming.