---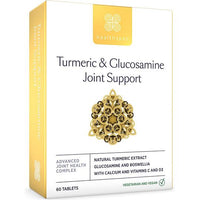 What is Turmeric & Glucosamine Joint Support?
A unique and exclusive formulation combining innovative ingredients with the very best nutrients to keep your joints and bones healthy.* Known as the 'golden spice of India', Turmeric has been a pillar of Ayurvedic culture for centuries. And Glucosamine is found naturally in the body, specifically the connective tissues and a long−standing favourite with Healthspan customers. But that's not all − we've also added boswellia serrata, which is extracted from the gum resin of the Boswellia tree.
Why is ours better?
Healthspan's patented Optiflex® Glucosamine HCl is sourced from a sustainable corn−base, making it free from shellfish and associated allergens. Our turmeric extract used is sourced from the southern Indian states of Karnataka and Tamil Nadu. Our boswellia serrata extract is 5−Loxin®, a highly concentrated and stomach friendly way to obtain the active boswellic acids within. Finally, the formulation is enhanced with calcium, vitamin C and a vegan form of vitamin D to provide a premium supplement for your joints and bones. 
*Vitamin C contributes to normal collagen formation for the normal function of cartilage and bones. Calcium and vitamin D contribute to the maintenance of normal bones. 
Ingredients 
Optiflex® Glucosamine (Glucosamine Hydrochloride, Povidone), Bulking Agent: Microcrystalline Cellulose, Calcium Prep. (Calcium Carbonate, Maltodextrin), Turmeric Prep. (Curcuma Longa Root Extract, Starch), 5−LOXIN® Boswellia Serrata Extract, Vitamin C Prep. (Ascorbic Acid, Hypromellose), Coating (Hypromellose, Glycerin), Magnesium Stearate, Anti−Caking Agent: Silicon Dioxide, Vitamin D3 Prep. (Corn Syrup, Acacia Gum, Medium Chain Triglycerides, Silicon Dioxide, Sodium Ascorbate, Cholecalciferol, D Alpha Tocopherol).