---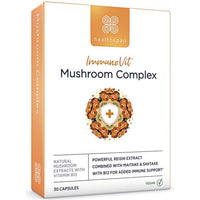 What is ImmunoVit®?
We've developed a range of immune health supplements containing innovative ingredients combined with proven immune nutrients. Ideal for anyone looking for seasonal protection or year−round immunity support.
What is Mushroom Complex?
Mushrooms have long been used for cooking in many cuisines and are rich in many beneficial nutrients. This vegan formulation contains expertly selected natural extracts from three mushroom species with specific nutritional profiles: reishi, maitake, and shiitake. Vitamin B12 has been added as a proven immune health nutrient that also provides benefits for your nervous system and energy levels.*
*Vitamin B12 contributes to the normal function of the immune system, the normal functioning of the nervous system and the reduction of tiredness and fatigue.
Ingredients 
Reishi Mushroom Extract, Maitake Mushroom Extract, Shiitake Mushroom Extract, Capsule Shell (Hypromellose), Bulking Agent: Microcrystalline Cellulose, Magnesium Stearate, Anti−Caking Agent: Silicon Dioxide, Methylcobalamin.