---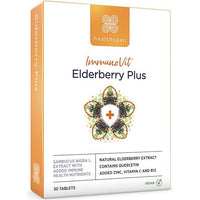 What is ImmunoVit®?
We've developed a range of immune health supplements containing innovative ingredients combined with proven immune nutrients. Ideal for anyone looking for seasonal protection or year−round immunity support.
What is Elderberry Plus?
An immune health formula containing natural extracts of black elderberries. These popular little berries are from the Sambucus nigra L. plant and are rich in nutrients known as flavanols and anthocyanins, found in the pigments of these dark purple fruit. We also added quercetin, a natural plant flavonoid present in many fruit, vegetables, and grains. Finally, vitamin B12, vitamin C and zinc are added to the formulation to support your immune system.* 
*Vitamin B12, vitamin C and zinc contribute to the normal function of the immune system.
Ingredients 
Maltodextrin, Black Elderberry Prep. (Maltodextrin, Natural Black Elderberry Extract, Silicon Dioxide), Vitamin C Prep. (Ascorbic Acid, Hypromellose, Tartaric Acid), Quercetin Prep. (Quercetin Extract, Hypromellose), Bulking Agent: Microcrystalline Cellulose, Zinc Citrate, Anti−Caking Agent: Silicon Dioxide, Stearic Acid, Coating (Hypromellose, Glycerin), Magnesium Stearate, Methylcobalamin.