---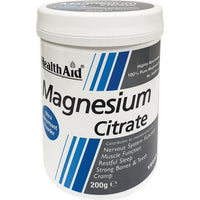 Due to severe soil depletion, poor dietary habits, use of popular stimulants, and chronic stress, millions suffer from magnesium deficiency without even knowing it. 
Magnesium Citrate is regarded as one of the most absorbable forms of magnesium. 
HealthAid® Magnesium Citrate Powder is completely free from any additives and contains only pure magnesium citrate powder in its best anhydrous form. 200g of HealthAid® Magnesium Citrate Powder contains 375mg of elemental magnesium per dose. The word "elemental" refers to actually absorbed by the body amount of magnesium. HealthAid® pure Magnesium Citrate Powder can be mixed with food, water, or any liquid. 
Magnesium is necessary to activate all the enzymes that convert Vitamin D into its final form. For people who are deficient in Magnesium, Vitamin D supplementation brings no benefits, even if very high doses of Vitamin D are taken, over a long period! For this reason, magnesium is recommended for all who take supplemental Vitamin D. 
Ingredients 
Magnesium Citrate Anhydrous Powder (No Additives)