---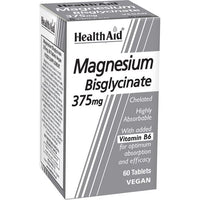 Your body is constantly working to be its healthiest self. Due to the soil mineral depletion, poor dietary habits and chronic stress, some individuals may have a magnesium deficiency without even knowing it. When we are pushed at work, at home and socially, there are health effects that need support. Alongside a healthy balanced diet, there are still circumstances that benefit from supplementation.
Magnesium Bisglycinate utlises Magnesium that is bound to the amino acid Glycin, this facilitates the absorption of magnesium. In this way, the body is better able to absorb and utilise magnesium. Magnesium Bisglycinate is paired with Vitamin B6, which assists the absorption of magnesium. Magnesium contributes to a reduction of tiredness and fatigue, electrolyte balance, normal energy-yielding metabolism, normal functioning of the nervous system, normal muscle function and protein synthesis, normal bones and teeth and normal psychological function. Vitamin B6 contributes to normal cysteine synthesis, energy-yielding metabolism, functioning of the nervous system, homocysteine metabolism, protein and glycogen metabolism, psychological function, normal function of the immune system and the reduction of tiredness and fatigue.
Ingredients 
Magnesium Bisglycinate (chelate), Bulking Agent (dicalcium phosphate, microcrystalline cellulose), Anti-caking Agent (veg. stearic acid, veg. magnesium stearate), Coating [hydroxy propyl methyl cellulose (HPMC), glycerol], Pyridoxine Hcl.