---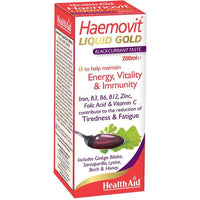 Feeling stressed, run down and lacking energy? Haemovit ® Liquid Gold is a unique formula that delivers optimum amounts of B Vitamins, Iron, Zinc, and herbal extracts including Ginkgo Biloba, Sarsaparilla and Birch Leaf. Whilst being gentle to the stomach it works synergistically to give the system a boost in energy, health and vitality.
This formulation is carefully blended with natural Honey and Malt (which has notable levels in Vitamin B2, B3, B6, Zinc, Phosphorus, Iron, Magnesium & Calcium), which, together with other ingredients, make a great-tasting and health-promoting liquid supplement.
Ingredients 

Malt Extract, Glycerine (Veg), Honey, Lysine HCL, Vitamin C (As Ascorbic Acid), Blackcurrant Flavour, Calcium Glycerophosphate, Xantham Gum, Preservatives (Potassium Sorbate), Niacin (as Nicotinamide), Zinc Sulphate, Iron (as Ferric Ammonium Citrate), Ginkgo Biloba Leaf extract, Sarsaparilla Extract, Birch Leaf Extract, Saccharin Sodium, Pantothenic Acid (Vitamin B5), Riboflavin (Vitamin B2), Vitamin B6 (Pyridoxine HCl), Thiamine HCl (Vitamin B1), Manganese Glycerophosphate, Folic Acid (Folacin), Iodine (Potassium Iodide), Vitamin B12 (Cyanocobalamin).