---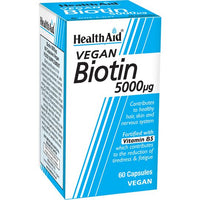 Dull hair and sagging skin? The ageing process comes with a whole range of less than favourable beauty issues. There is good news, supplement your healthy diet with Biotin to support healthy skin, nails and hair. Biotin is especially known as a beauty vitamin. It thickens hair, increases elasticity and prevents dryness and breakage of the hair. It also helps to make keratin, a primary component of healthy hair. In addition, Biotin helps carry oxygen to the cells in the follicles, making them energised and healthy. This is one of the reasons why Biotin has been proven to be very beneficial in preventing hair from becoming brittle and dull. Biotin supports healthy skin growth,
Since regular Biotin supplementation may lead to Vitamin B5 (Pantothenic Acid) deficiency, the HealthAid® Biotin 5000mcg Capsules are fortified with high strength Vitamin B5, which contributes to the reduction of tiredness and fatigue, to the normal mental performance, to energy-yielding metabolism, and metabolism of steroid hormones (sex hormones and adrenal hormones), thus promoting hormonal balance in both men and women. Like Biotin, Vitamin B5 also promotes healthy hair, skin and nails.
Ingredients 
Bulking Agent (rice powder, microcrystalline cellulose), Pantothenic Acid, Anti-caking Agent (veg. magnesium stearate), D-Biotin.