---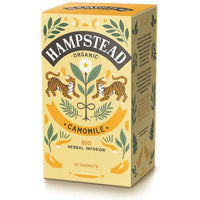 Care for you Camomile Organic Herbal Infusion
20 tea bags in sachets.
Caring for you is about relaxing and taking a view of life at a time that suits you. Our carefully gathered beautiful golden Camomile flowers are gently tumbled together to help you find that peaceful moment again.
Camomile relieves inflammation, soothes and relaxes.

Naturally caffeine-free.
Ingredients: Camomile flowers
ENJOY
The clear lively flavours of our herbal infusions are best brought out by brewing with freshly boiled, good quality water. Steep one sachet of tea per person for 3-5 minutes and enjoy.
Our Camomile was previously called Royal Camomile - the blend is still the same.
Organic grown
Tea bags & packaging are plastic-free and home compostable