---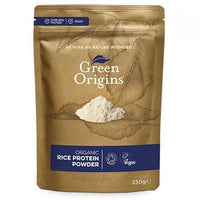 Rice protein powder is a popular protein source due to its rich amino acid profile. It is free from the allergens sometimes found in milk-based proteins and is great for anyone following a plant-based diet. We use rice protein isolate, which has a higher level of protein than concentrate and is a versatile product that is unflavoured, so you can add it to sweet or savoury recipes for a protein boost.
Over 80% Protein
 Organic
Suitable for vegans and vegetarians
Find a recipe for our Cacao Almond Smoothie on pack

HIGH IN PROTEIN - Protein contributes to a growth in muscle mass and maintenance of muscle mass.
Ingredients
Organic Rice Protein Isolate