---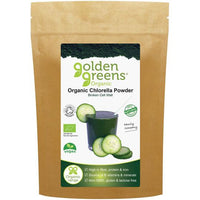 Tired or run-down, or perhaps feel you're just lacking something, especially if you're vegetarian or vegan?
That's what that we experienced, and Chlorella adds that 'missing' something. 
It's rich in minerals that contribute to the reduction of tiredness and fatigue, so you'll have more energy. 
You'll feel the difference...
Ingredients 
100% Certified Organic Chlorella  powder.
May contain naturally occurring sulphites. 
For allergens see ingredients in bold.  
Keep in a cool dry place, away from direct sunlight.