---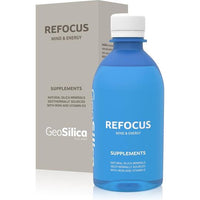 Contains 100% natural geothermal silica, iron and vitamin D in pure Icelandic water. Iron contributes to normal brain function, energy burning and reduces fatigue. In addition, both iron and vitamin D contribute to a healthy immune system.
• Contains silicon, iron and vitamin D3
• Increases energy
• Increases concentration and memory
• Promotes a stronger immune system
• 300 ml per bottle
• 10 ml (1 tbsp) daily intake
Store in a dry and cool place. Store out of the reach of children. It is not recommended to consume more than the recommended daily dose. Store in the refrigerator after opening and use within 3 months. The product is not intended for pregnant women. Dietary supplements do not replace a varied and traditional diet.
This product is not intended to diagnose, cure or prevent disease.
Ingredients 
Water, geothermal silica, ferrous sulfate, vitamin D