---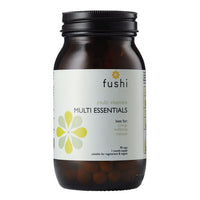 This comprehensive Whole Food Multi Essentials Complex has been formulated to contain all of the essential micronutrients needed for optimum health, plus other compounds known to enhance health, improve digestion and the absorption of nutrients. This Whole Food Multi vitamin blend aims to boost energy, diminish fatigue and promote vitality and wellbeing.
Ingredients
Hydroxypropylmethyl cellulose (capsule shell), Tri-Calcium Citrate (Tetrahydrate), Magnesium Citrate, Potassium Citrate (35.79 – 36.16% K), Organic Seagreens Ascophyllum (0.07% iodine), Vitamin C (Ascorbic Acid), Apple Pectin (Apple pomace), Vitamin K2 (MK7 Menaquinone Q7 Natural 2000 ppm), Vitamin E (DL-Alpha-Tocopheryl Acetate Powder), Inositol, L-Glutamine, Choline, Vitamin B3 (Nicotinamide), Bromelain (Ananas comosus), Selenium (Seleno Methionine 0.5% Se), Vitamin A (Retinol Acetate), Copper Gluconate, Papain (Papain 6,000u/mg), Iron (Ferrous Fumarate), Vitamin B5 (D-Calcium Pantothenate), Manganese Sulphate (Manganese & Sulphuric acid), Zinc Citrate Dihydrate (-31% Zn), Vita-algae D™ 100,000iu/g Powder (≥10% Vitamin D Oil from Algae), Vitamin B6 (Pyridoxine Hydrochloride), Vitamin B2 (Riboflavin), Vitamin B1 (Thiamine Hydrochloride), Boron (Disodium Tetraborate), Chromium Picolinate (12 - 12.6% Chromium), Vitamin B9 (Folic Acid), Vitamin B7 (D-Biotin Pure), Vitamin B12 (Cyanocobalamin)
Free from:
Fillers • Binders• Gluten • Wheat • Lactose • Preservatives • Artificial Colouring • Yeast • Sugar • Animal testing
Directions: 3 capsules daily with food. 90 caps, 1 month supply.
Do not exceed stated recommended dose.
Cautions: Use only as directed. Not recommended for pregnancy or breastfeeding. Food supplements should not be used as a substitute for a varied diet. Store in a cool dry place out of reach of children. Not for children under the age of 12 years.
Storage: Out of sunlight and heat in a cool dark place and out of reach of children.