---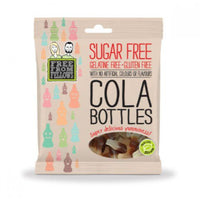 Yummy and Gluten free treats
Made without any sugar
A delicious cola flavour
Free From Fellows™ is a much welcomed new line up of the UK's favourite confectionery products (Gummy Bears, Cola Bottles & Midget Gems) but with a fabulous twist – they are made without sugar!
These yummy gluten free treats are also made without any gelatine making them suitable for Vegans and Vegetarians. Free From Fellows Cola Bottles are fun bottle shaped sweets in a delicious Cola flavour. Super delicious yumminess!
Ingredients:
Always read the label
Sweetener: Maltitol Syrup, maize starch, water, acid: Citric acid, natural flavourings, coconut oil, glazing agent: carnauba wax; colour: ammonia caramel.
Advisory information:
Not suitable for young children. Excessive consumption may produce laxative effects. These sweets contain Maltitol, sensitivity to which can vary from person to person. Please eat responsibly.