---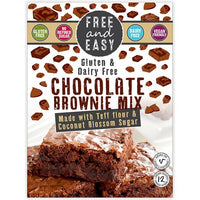 We always have a quick cake mix in the cupboard, whether it's for school fairs, baking sales, or just friends coming over last minute for a cup of tea. 
Although these cakes are gluten, nut and soya free they taste nothing like you expecct. Full of rich chocolate flavour and super moist brownie. And they're refined sugar free with coconut blossom sugar used. 
 Teff flour is a creamy brown wholegrain flour milled from one of the world's smallest grains. It has a slight sweet and malty flavour, contains 8 essential amino acids, is high in vitamin C, a rich source of soluble fibre and a good source of protein. 
Ingredients : Coconut blossom sugar (47%0, teff flour (20%), gluten free plain flour (rice, potato,tapioca, maize, buckwheat), cacao (10%), potato starch, tapioca starch, raising agent (mono calcium phosphate, corn starch, sodium bicarbonate), potato starch, xantham gum, bicarbonate of soda.