---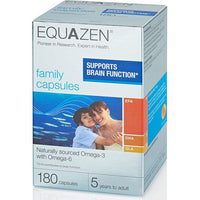 Discover the Equazen difference. Equazen's range of supplements contain a unique, clinically researched formulation of essential fatty acids, including omega-3 DHA to support brain function.*

Backed by clinical studies, Equazen's capsules are a precise blend of Omega- 3 EPA and DHA from fish oil and Omega-6 GLA from Primrose oil.

These tasteless odourless capsules are for children over 5 years and adults. 
The synergistic and balanced formulation helps to meet the body's individual need for essential fatty acids in the diet and is a simple way to get the natural benefits of fish oils without the fishy taste.*

Only high-quality, natural ingredients are used to produce Equazen. The oil comes from sustainable sources of oily fish, such as sardines, renowned for their naturally higher level of EPA.
Ingredients
Hi-EPA Fish Oil, Capsule Shell (Gelatine, Glycerol), Evening Primrose Oil, Natural Vitamin E (as D-alpha Tocopherol, from IP-Soya)
Equazen® gelatine used is certified halal.