---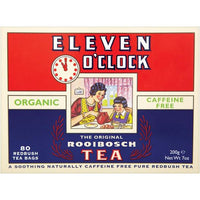 Eleven O'Clock is the sister brand of Dragonfly Tea. It is the most renowned South African rooibosch tea; it has been a genuine favourite and store cupboard essential for many generations.
Our pure rooibosch is grown to international organic standards and is from Rainforest Alliance Certified farms. It is harvested by hand and cured in the crisp Cederberg Mountain air.
Ingredients 
Organically grown rooibos tea.