---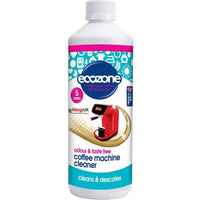 Ecozone's Allergy UK approved Coffee Machine Cleaner is designed to work with all machine brands and types. The solution cuts through any lingering limescale and coffee build-up in machines, leaving a spotless and residue free appliance. The easy to use liquid solution leaves no taste or odour behind, for great tasting coffee every time. This descaler provides 5 uses.

Disclaimer: Use no more than 100ml of solution for every descale. Simply follow the descaling instructions as per your appliance manufacturers instructions or follow our guidance.
Using a descaler regularly will ensure appliances are kept in top condition and allow them to function efficiently and properly. Limescale can easily damage heating elements which can be a cause of premature malfunction. Ecozone recommends descaling appliances once a month.
Water, citric acid, malic acid, Amines C12-14 (even numbered)- Alkyldimethyl, N-oxides