---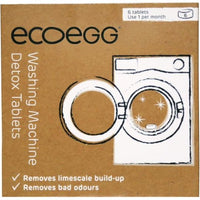 Up to 3 years* supply
*Based on detoxing your washing machine every 6 months.

Washing machines need a regular deep clean to keep them working at their best.

Deposits can build up in the hard-to-reach pipes and crevices which can cause nasty odours.

Clean your washing machine from the inside out...
Eliminates nasty residue build-up and limescale
Tackles nasty odours - breaks down the source of the problem
Cleans everywhere - even the parts you can't see
Leaves your washing machine sparkling clean and fresh

The Ecoegg washing machine detox tablets are carefully formulated with the fewest chemicals possible, whilst still getting the job done.
Treat your washing machine to a good detox, Removes limescale and residue build-up, Eliminates nasty odours, Leaves your washing machine sparkling clean and fresh, Keep your washing machine in tip-top condition, Suitable for use in all types of washing machine
Ingredients
Contains: Sodium Percarbonate, Acifloctin, Sodium Bicarbonate, Sodium Carbonate