---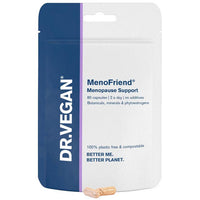 MenoFriend® is an acclaimed formula of clinically tested botanicals, minerals and phytoestrogens to relieve common symptoms of menopause and peri-menopause, including brain fog, hot flushes, night sweats, mood swings, poor sleep, fatigue, weight gain and joint aches. Including Wild Yam, Dong Quai, Red Clover, Maca Root and B-Vitamins, MenoFriend® helps regulate your hormones to support a better mood, sleep, energy and joints every day. 88% of women who take MenoFriend® enjoy relief from symptoms.
INGREDIENTS: Wild Yam extract, Organic Dandelion Root powder, Mung Bean powder, Sage Leaf extract, Dong Quai Root powder, Red Clover extract, Hops extract, Maca Root extract, Niacin (Nicotinamide), Selenium (L-Selenomethionine), Magnesium Citrate, Calcium Citrate, Vitamin B6 (Pyridoxine Hydrochloride), Vitamin K2 (MK-7), Kelp extract, Vitamin B5 (Pantothenic Acid, Calcium Salt), Vitamin D3 (Cholecalciferol), Vitamin B2 (Riboflavin), Vitamin B12 (Methylcobalamin), Capsule Shell (Hydroxypropyl Methylcellulose).

FREE FROM: Added Sugar, Starch, Sweeteners, Gluten, Wheat, Soya, Lactose, Dairy, Artificial Flavours, Colours and Preservatives.

Food supplements should not be used as a substitute for a varied balanced diet and a healthy lifestyle. If you are pregnant, breastfeeding, have any existing health conditions, taking any medications or under medical supervision, please consult a doctor or healthcare professional before use. Discontinue use and consult a doctor if adverse reactions occur.