---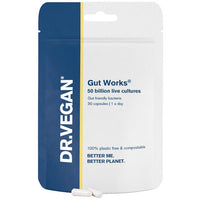 Gut Works® is our award-winning formula of clinically studied probiotics and prebiotics, with 50bn CFU, for complete gut health, relieving IBS and bloating, and providing the most effective support for your digestion, mental health and immune health. Combining Inulin with 6 strains of live cultures including Acidophilus, Bifidobacterium and Streptococcus in one daily delayed-release capsule, research shows Gut Works® is 3x more effective than other probiotic supplements. 88% of Gut Works® users enjoy relief within 4 weeks or less. 
INGREDIENTS: Inulin Powder, Lactobacillus Acidophillus, Lactobacillus Rhamnosus, Lactobacillus Casei, Bifidobacterium Lactis, Streptococcus Thermophilus, Lactobacillus Plantarum, Capsule Shell (Hydroxypropyl Methylcellulose), Psyllium Husk powder (Plantago ovata).

FREE FROM: Added Sugar, Starch, Sweeteners, Gluten, Wheat, Soya, Lactose, Dairy, Artificial Flavours, Colours and Preservatives.

Food supplements should not be used as a substitute for a varied balanced diet and a healthy lifestyle. If you are pregnant, breastfeeding, taking any medications or under medical supervision, please consult a doctor or healthcare practitioner before use.