---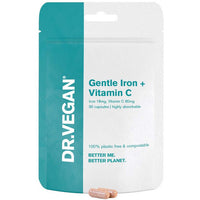 Our Gentle Iron (18mg) is combined with Vitamin C (80mg) which greatly improves your body's absorption of Iron and supports your healthy immune system. Iron is an essential mineral for your cognitive function, concentration and a healthy mood. Iron deficiency can lead you to feeling low on energy, anaemia, and is more common among women and those on plant-based diets. Discover what your diet is missing in our free Diet Profile. 
INGREDIENTS: Vitamin C (Ascorbic Acid), Iron (Ferrous Fumarate), Brown Rice Flour, Capsule Shell (HPMC, vegetable cellulose).
FREE FROM: Added Sugar, Starch, Sweeteners, Gluten, Wheat, Soya, Lactose, Dairy, Artificial Flavours, Colours and Preservatives.