---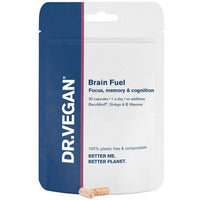 Keeping your brain fit and staying sharp is important at all stages of life, whether you're a professional, a student, gaming, or working long hours or simply trying to get the most out of your day.

BacoMind® (registered trademark of Natural Remedies) is a patented, clinically tested memory and cognition health extract of Bacopa Monnieri (Brahmi) with 9 bioactives for brain health, supporting cognitive function and memory.

Randomised, double-blind placebo-controlled studies among the elderly and children showed BacoMind® to improve memory recall by 24%, reduce the impact of memory disturbance by 50%, and improve delayed memory recall by 78%.

Collaborating with farmers and NGOs in India to retain full control of the extraction process of this acclaimed natural herb, BacoMind® ensures the highest quality and biomass security to retain all the natural benefits while improving the livelihood of farmers and local communities.

Ginkgo (Ginkgo Biloba) helps the maintenance of good cognitive function, maintaining memory with age decline, and helps enhance cognitive performance. Gingko contains naturally occurring antioxidants, helping protect you from free radicals and promotes your peripheral circulation, which is especially useful for the eyes and the ears, contributing to good hearing and vision.

Phosphatidylserine plays a vital role in cell-to-cell communication in the brain and is required to maintain the fluidity of all cell membranes. Human studies have shown that Phosphatidylserine can favourably affect neuronal membranes, cell metabolism, and levels of brain neurotransmitters such as acetylcholine.

Phosphatidylserine is essential to help brain neurons support and maintain memory function and neuroplasticity (the capacity to replace damaged neurons and to make new ones). Neuron-to-neuron communication and neuroplasticity depend on a steady supply of phosphatidylserine and other "smart" nutrients. Maintaining an optimal intake of Phosphatidylserine is crucial to preventing age-related cognitive decline. Even if you are a healthy individual today, research shows that you could eventually experience a dramatic decline in your cognitive capacities by the time you reach 70 years of age. Good food sources of Phosphatidylserine include Bovine brain, organ meats and soy. A small amount can be found in eggs and milk.

Brain Fuel™'s B-Vitamin complex also includes Vitamins B1, B3, B5, B6 and B12 which all contribute to the normal function of your brain and daily energy.

Zinc, which is not naturally produced by your body, is obtained either through your diet or supplements and is an essential nutrient for your cell growth and division, and the health of your immune system.
Ingredients 
BacoMind® Bacopa Monnieri Extract, Ginkgo Biloba Extract, Phosphatidylserine (contains Soya), Organic Turmeric, Niacin (Nicotinamide), Vitamin B5(Pantothenic Acid), Vitamin B6 (Pyridoxine Hydrochloride), Vitamin B12 (Methylcobalamin), Vitamin B1 (Thiamin Hydrochloride), Zinc Citrate, Capsule Shell (HydroxypropylMethylcellulose).

FREE FROM: Added Sugar, Starch, Sweeteners, Gluten, Wheat, Lactose, Dairy, Artificial Flavours, Colours and Preservatives.

Food supplements should not be used as a substitute for a varied balanced diet and a healthy lifestyle. If you are pregnant, breastfeeding, taking any medications or under medical supervision, please consult a doctor or healthcare professional before use. Discontinue use and consult a doctor if adverse reactions occur.