---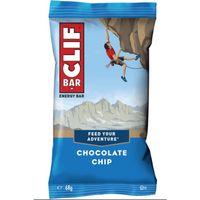 Made with rolled oats and chocolate chips, this flavour reminds us of warm cookies straight from the oven. A source of fibre and 9 grams of protein, this delicious energy bar provides nutrition for your workout or active adventures. Promoting a steady release of energy; B6 and B12 vitamins are a helpful addition.
Ingredients
Brown Rice Syrup, ClifPro™ (Soy Rice Crisps [Soy Protein Isolate, Rice Flour, Barley Malt Extract], Roasted Soybeans, Soy Flour), Rolled Oats (17.3%), Chocolate Chips (6.7%) (Dried Cane Syrup, Unsweetened Chocolate‡, Cocoa Butter‡, Emulsifier: Soy Lecithin, Vanilla Extract), Cane Syrup, ClifCrunch™ (Oat Fibre, Apple Fibre, Inulin [Chicory Extract], Milled Flaxseed, Psyllium), Date Paste, Soybean Paste (Roasted Soybeans, Soybean Oil, Salt), Sunflower Oil, Molasses Powder, Sea Salt, Flavourings, Cinnamon.
VITAMINS & MINERALS: Calcium Salts of Orthophosphoric Acid, Magnesium Oxide, L-Ascorbic Acid (Vit. C), DL-Alpha Tocopheryl Acetate (Vit. E), Beta Carotene (Vit. A), Nicotinamide (Vit. B3), Riboflavin (Vit. B2), Thiamin Mononitrate (Vit. B1), Pyridoxine
Hydrochloride (Vit. B6), Ergocalciferol (Vit. D2), Cyanocobalamin (Vit. B12).
For allergens, see ingredients in bold. May contain traces of NUTS.
Suitable for vegetarians and vegans.